Miles and Championship Wins


Whirlwin 2022 for Diego Saavedra
By Samuel Rodriguez - December 5, 2022



‍2022 will go down as a particular year in the life of Diego Saavedra, one that will take him to the Latin America Amateur Championship and the PGA TOUR Puerto Rico Open within the first few months of 2023. 
The 20-year-old Harvard sophomore racked up an impressive amount of travel miles, top-10 finishes, and wins in 2022. Diego placed a solo 5th at the XCIV Mexico Internacional Amateur, a 4th place finish at the sixth event of the Michelob Ultra Golf Tour, and a 3rd place finish at the seventh event of the Michelob Ultra Golf Tour season.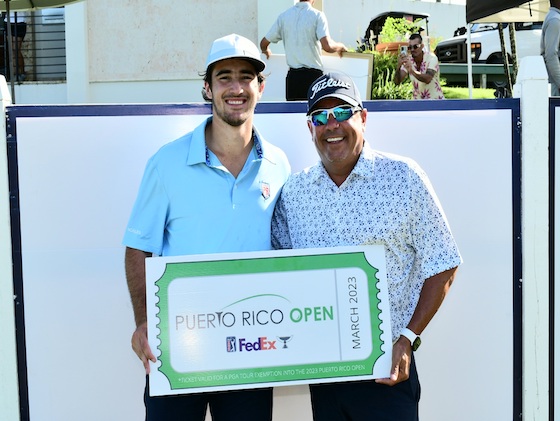 Diego Saavedra & Eduardito Figueroa (photo: F.Lopez/ GOLF PR)
‍His three wins came at the annual signature event conducted by GOLF PR, The Island Championships, followed by the Michelob Ultra Golf Tour Match Play Championship and the season-ending Michelob Ultra Golf Tour Championship by carding rounds of 69, 67 and 73 for a 4-under finish on the Ocean Course at Rio Mar Country Club. 
Saavedra, who spoke via phone shortly after landing in Boston today to finish the remaining two weeks of the semester, said, "I haven't had the chance to reflect on what I did golf-wise these past six months or so. As soon as the semester is over, I'll immediately fly home to Puerto Rico, and at some point, when I'm with my family and friends back on the Island, It'll surely hit me.
Attending college has its natural challenges. Juggling college life as a student-athlete is even harder. Add a mini golf tour, sprinkle a few international invitationals, and it's borderline lunacy. "I have a great support system at school. My classmates, friends, teammates, and coaches have helped me, which speaks to the overall culture at Harvard, and I like that a lot. As Coach always reminds us, school is first, and golf is second.  
While in Puerto Rico, Saavedra will practice and prepare at the host site of the 2023 Latin America Amateur Championship and the 2023 PGA TOUR Puerto Rico Open, Grand Reserve Golf Club. Familiar faces will surround him. Longtime Puerto Rico Junior National Team coach and Head Pro at Grand Reserve, Eduardito Figueroa, and current Korn Ferry Tour player Rafa Campos. 
Soon afterward, fellow countryman and playing in the 2023 LAAC, Jero Esteve, will join him in preparing himself for the LAAC.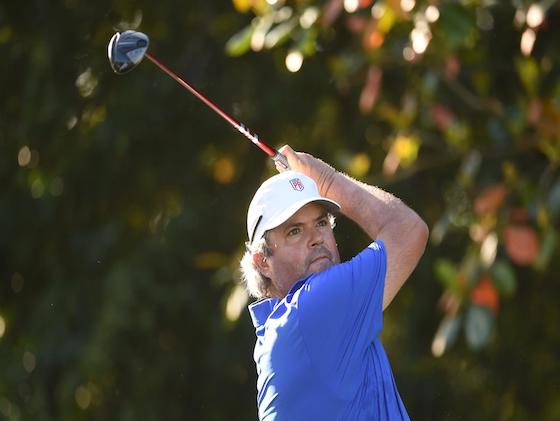 Jero Esteve 2022 LAAC 
(photo: USGA)
‍Esteve, who has a long list of accomplishments in his own right, "has played in everything there is to play in with great success, and he's getting even better with age, "mentioned Saavedra. "He's a great mentor to me, and he's been great at helping me learn how to manage the course better, break through tough rounds, and approach the game efficiently. Oh yeah, and that's even with him beating me by 10-strokes in a qualifier", Diego mentions while laughing. 
Along with Esteve, Saavedra will be joined by Erick Morales, Max Alverio, Robi Calvesbert, Robert Nieves, and Kelvin Hernandez, all representing Puerto Rico at the latest edition of the Latin America Amateur Championship. Founded by the Masters Tournament, The R&A, and the United States Golf Association (USGA), the LAAC was created to further develop amateur golf throughout South America, Central America, Mexico, and the Caribbean.
Saavedra would mention that this wouldn't be possible without the opportunities created by GOLF PR and its longtime president, Sidney Wolf. "There is no LAAC or PR Open for me if it wasn't for them.
This year's LAAC will take place January 12-15 at Grand Reserve Golf Club in Rio Grande, Puerto Rico, and will be televised worldwide by ESPN. The LAAC champion will receive an invitation to compete in the 2023 Masters Tournament at Augusta National Golf Club and an exemption into The 151st Open at Royal Liverpool. The champion will also receive an exemption into The Amateur Championship, the U.S. Amateur Championship, and any other USGA amateur championship for which he is eligible, along with an exemption into the final stages of qualifying for the 123rd U.S. Open at The Los Angeles Country Club in California. Likewise, the runner(s)-up will receive an exemption into the final stages of qualifying for The 151st Open and the 123rd U.S. Open.
‍‍‍‍All rights reserved, 2020, Acyba‍.